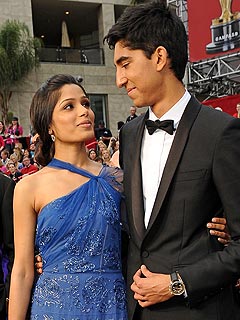 After much speculation about the nature of the relationship involving Slumdog Millionaire stars Dev Patel and Freida Pinto, Patel's mother Anita has confirmed to a British newspaper that the pair are very much a couple.
"First it was the film and now everything else seems to have slotted into place," Mrs. Patel is quoted as saying in Monday's Daily Mirror.
"Life can't get any better for him. Freida is really beautiful, and I am really happy for them."
Her comments come just days after Patel, 19, jetted to Israel to spend a whirlwind date with the Mumbai beauty, 24. "Yes, we knew he was flying to Israel to see her," said Patel's mother.