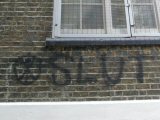 Vandals have smeared the word "slut" on the wall of Sienna Miller's North London home.
The graffiti was spray-painted in large black letters alongside the sign for Satan.
The actress has been criticised on both sides of the pond for her affair with oil heir Balthazar Getty, who is married with four children.
She broke down in tears after being quizzed about the relationship by paparazzi earlier this month.