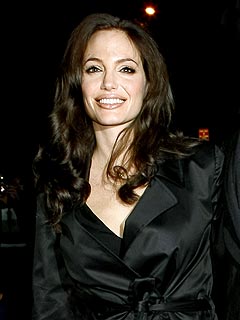 Angelina Jolie says she had only intended to adopt children – until her love for Brad Pitt changed her mind.
"I think one of the life changing things that he did, one of many, is that I was absolutely never going to get pregnant. I never felt that it was the right thing to do," Jolie, 33, tells
W
magazine, in an article featuring photos taken by Pitt of her breastfeeding.
But when she saw Pitt, 44, with adopted children Maddox and Zahara, "I knew that he would never see them as different, and that gave me a certain peace," Jolie says.
"I suppose I just looked at him and loved him and just felt open to (getting pregnant)," she says. "I suddenly wanted to. It's one of those things you can't explain."